Hollywood Memories travels to Mexico
Kathleen Loock and Alejandra Bulla travel to Mexico from February 14-26 to present the Hollywood Memories project in Guadalajara and Mexico City. The purpose of this trip is to give talks in different institutions, but our main interest is to make more people aware of the project and to encourage them to participate in our main study that we are launching in March 2023. We start in Guadalajara with a presentation organized by Fabiola Alcalá Anguiano and the REDIC (Red de investigadores de cine) and continue in Mexico City with presentations at the Universidad Autónoma Metropolitana, the TEC CDMX (Tecnológico de Monterrey, Campus Ciudad de México), El Colegio de México, and the UNAM (Universidad Nacional Autónoma de México). We owe our thanks to Fabiola Alcalá Anguiano, Nicolas Licata, and Rubén Rebolledo who have helped us in the organization of the talks. We are very excited about this trip and about sharing our project with all those who wish to attend any of our talks.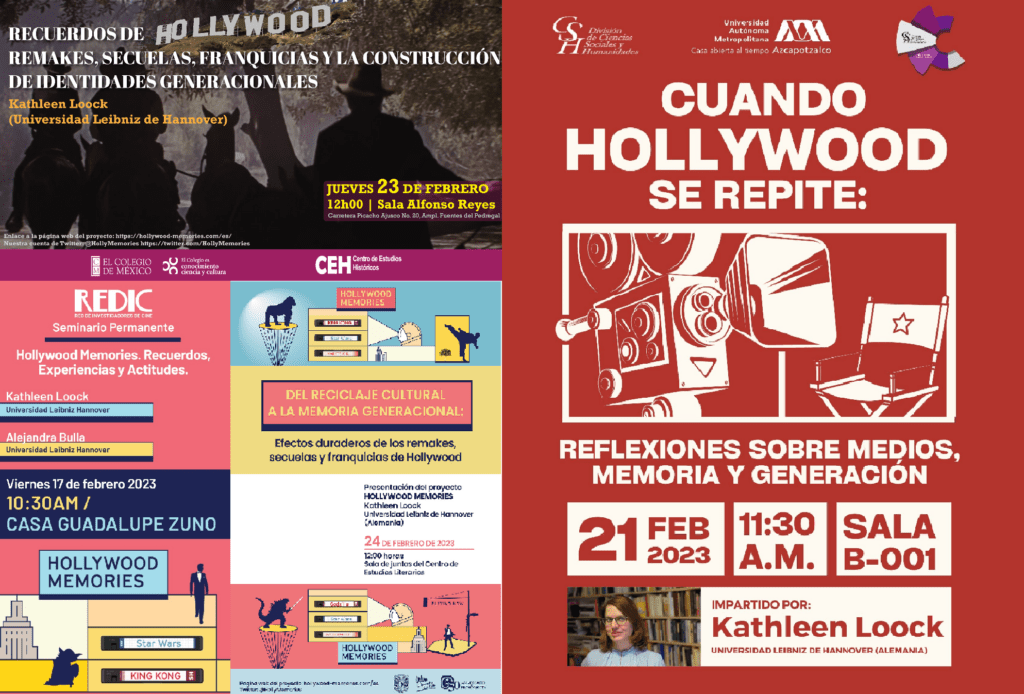 Register now to participate in the HOLLYWOOD MEMORIES project!
You want to be part of the project and share your memories of Hollywood movies with us? Then register here to participate. We will let you know when the questionnaire is launched on our digital research platform.