Back in Germany after our rewarding trip to Mexico.
We have returned to Germany with excellent experiences from Mexico and ready to work on what lies ahead. All presentations went according to plan, which allowed us to share project information and get a significant number of participants for our main study that will start in the last week of March.
However, we are interested in having even more participants than those who are currently registered. To this end, we are calling on all those who are interested in participating in our Mexican case study to register here on our website by following the Participate tab where you will find the form to fill out. If you have any questions about the project and your possible participation in it, please do not hesitate to contact us, we will be happy to answer any questions you may have.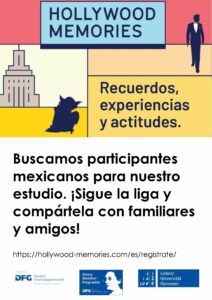 Register now to participate in the HOLLYWOOD MEMORIES project!
You want to be part of the project and share your memories of Hollywood movies with us? Then register here to participate. We will let you know when the questionnaire is launched on our digital research platform.