Interview in COLLECTING MOVIES Series
Film critic and professor of media and film studies at Concordia College in Moorhead, Minnesota (USA) Greg Carlson interviewed Kathleen Loock for his COLLECTING MOVIES series. They talked about her growing up in East Germany, how she became interested in movies, her research on remakes, sequels, and franchises, and her collection of DVD box sets — from PSYCHO I-IV to ALIEN to JURASSIC PARK.
The full interview is available here: Collecting Movies with Kathleen Loock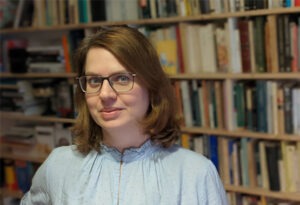 Register now to participate in the HOLLYWOOD MEMORIES project!
You want to be part of the project and share your memories of Hollywood movies with us? Then register here to participate. We will let you know when the questionnaire is launched on our digital research platform.